Akasha Classic
Akasha Classic is based on Hatha, the classic style that is the foundation of all yoga. Hatha means sun and moon and refers to an alignment-based practice of moving into the pose slowly and holding poses for longer periods of time. Akasha Classic is suitable for all regardless of age or experience. It's both a great introduction to yoga and a continual challenge that not only helps you get and stay in shape but also develops balance, flexibility and coordination. It renews, invigorates, and heals the body by stretching and toning muscles.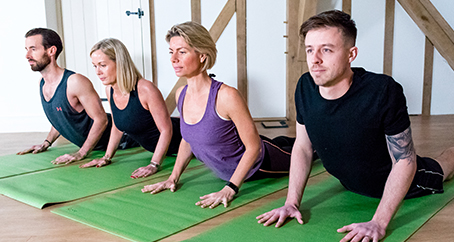 Akasha Flow
Akasha Flow – a  traditional Vinyasa Flow yoga class. Vinyasa means "movement with breath" using breath to flow from one position into the next. The class is a flow of yoga poses and breath placed in specific dynamic sequences. Everyone is welcome to experience a full body workout that will strengthen and stretch your entire body, and leave you feeling revitalised – both physically and mentally.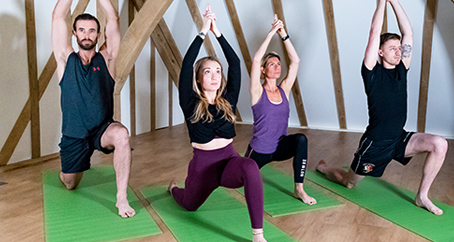 Akasha Power
Taking it to a new dimension; where you feel your body work hard with your mind focussed and determined. Be challenged and see the results of this strong yoga class.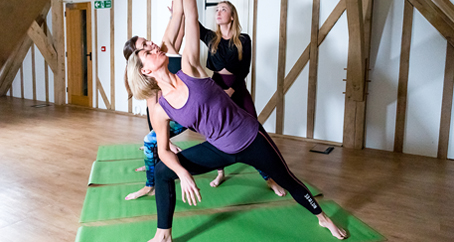 Akasha Hot Flow
Flowing, vinyasa sequencing to develop strength, flexibility and balance. 'Vinyasa' means synchronised breath with movement – which relaxes the mind and helps release energy blockages. The addition of heat will rid your body of toxins and make you sweat! Be prepared to sweat, tone your entire body and cleanse your soul. This class will transform you on all levels, physically, mentally and spiritually.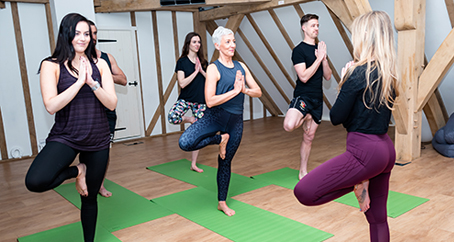 Akasha Hot Etiquette
Please arrive on time to class. As this is a specific sequence, in a heated environment we cannot allow late-comers to class. If you are new to Akasha, please arrive 10 minutes early for your first session to allow extra time for registration.
Arrive well hydrated. Hydration is essential to replace fluids lost through sweating. Bring a water bottle to class and drink when needed. Avoid drinking diuretics such as tea, coffee and alcohol before class.
Re-hydrate after class.
It is not recommended to eat anything heavy less than 2 hours before class. Blood will be directed away from the muscles to the stomach for digestion.
Sweating is to be expected during class so you will be required to have a towel in class to protect our mats and keep them hygienic for everyone. You can bring your own or rent mat towels from reception for £1 (free if it is your first time).If you begin to feel ill, dizzy or faint try to drink water, sit and rest until the feeling passes. If you feel you have to leave the room, please do so between postures and wait to return to the class between postures.
If you have any injuries or health changes please inform your teacher
Have fun. Yoga is about finding balance. Respect your body and its limits
Akasha 1:1
Whether you're new to Yoga or have been practicing for years this is a great way to enhance your practice and gain valuable 1:1 attention.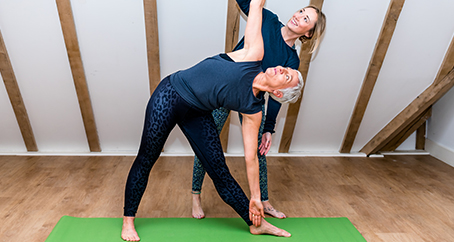 Yoga Instructors
Yoga Instructor
Sian is a RYT 200hr Yoga alliance accredited Vinyasa Yoga Teacher. Sian delivers classes that both challenge and calm the body, mind and soul. Sian's classes are suitable to all levels, beginners, total newbies or experienced yogis.
Read More
Yoga Instructor
Tracey has had an interest and been practicing yoga from the age of 12 and initially self-taught through books whilst at school. Since then it has always been an important and integral part of her life and fundamental to her upbringing. Tracey has always found that practicing Yoga and Pilates makes her feel revitalised and is great exercise for bringing balance and harmony to body and mind. She began her teacher training in 2004 and is now fully qualified as an Advanced Hatha Yoga teacher & a mat Pilates teacher.
Read More
Yoga Instructor
Emma is a qualified 200hr registered yoga teacher, having completed her training with the Fringe.yoga method, a unique vinyasa flow balanced with therapeutic Yin Yoga. Journeying around the elements - feel your connections to the Earth, flow with the fluidity of Water, delve into your fierce inner Fire and experience the freedom of Air.
Read More
Yoga Instructor
Kirsty teaches Hatha Yoga and a Hatha flow style of yoga that introduces simple flow sequences. Kirsty is a level 4 qualified instructor having completed her training in 2015 at The British wheel of yoga. Kirsty continues her training attending regular courses including learning functional range conditioning and animal flow exercises which are often brought into her classes.
Read More